Many talented people are working rigorously in their respective industries, giving it their all. Still, only a handful have become well-renowned names in their industries. The few rare gems that go ahead in becoming successful names are those that focus on first becoming their best versions in all they choose to do in their careers and lives. To do that in the hair and beauty and male grooming industries has proved to be even more challenging and taxing over the years, with the onset of too many established barbering brands, people, and businesses. Still, people like JJ Savani stand tall and unique in the sector and go ahead to even inspire up-and-coming talents in the industry.
Also Read: How Artificial Intelligence is Changing the Workplace
JJ Savani is a modern-day hairdresser, barber, British Editorial Session Stylist, Educationist, and Creative Director of Ikon Man UK, who has made quite a name for himself after working with some of the most prominent names in the fashion and entertainment world. He confesses how he went all-in in the early 2000s while residing in Mumbai, India as a barber. He then realised his passion for the same, acquired more knowledge and experience, and set up his business in the UK as a passionate British Indian talent. There is a reason people consider him one of the leading professionals known nationally and even on a global stage. Besides working for London Fashion Week, Dubai Lifestyle Expo, and other worldwide salon and hair expos, he even judged the International EU Barber Awards. He recently announced his presence at the CT Barber Expo, the US.
Also Read: The Cycle of Small Business Success
The 1989-born is also an exceptional stylist and lifestyle influencer and has even turned into an educationist in the industry with his education program. However, it was in 2019 when JJ Savani launched his brand on Instagram and earned more exposure and recognition, which led him to work with major brands in the industry. JJ Savani highlights everything around customer satisfaction at his studio, Ikon Man UK. His team and he are dedicated to providing the best services in hair, beauty, makeup, grooming, etc.
Also Read: Detroit-Based Young Sensation Lil Humbled Is All Set to Bring The New School Wave To The Hip-Hop Scene
The graduate from the London School of Barbering and London School of Makeup with a Masters in Barbering, Hairdressing, Male Grooming, and Makeup says that his studio could make a massive name for itself because the team always focused on constant innovations and incredible services like haircuts, shaves, hair coloring, session styling, male makeup, and more.
---
Connect With Us On Social Media [ Facebook | Instagram | Twitter | LinkedIn ] To Get Real-Time Updates On The Market. Entrepreneurs Diaries Is Now Available On Telegram. Join Our Telegram Channel To Get Instant Up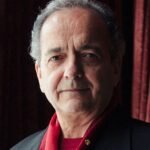 An American trend forecaster, publisher of the Trends Journal, business consultant and author who makes predictions about the global financial markets and other important events.